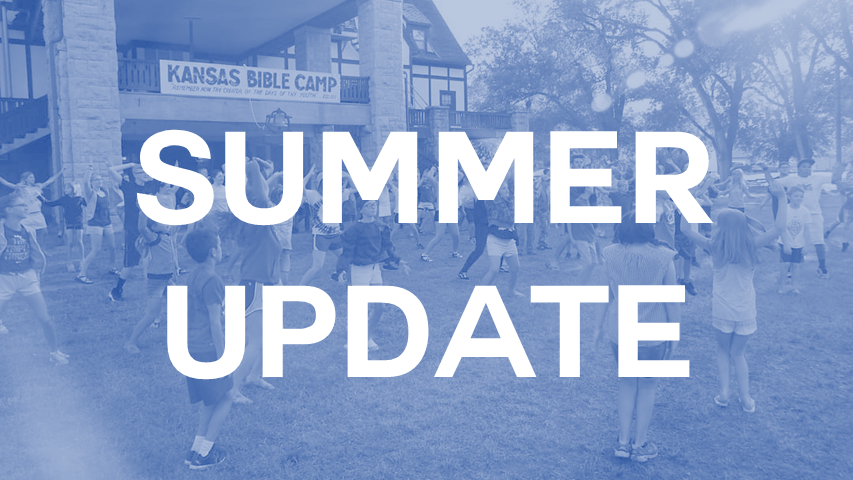 May 26th Summer Update

Registration is open again! All dates on the calendar are accurate as far as we anticipate at this time.

EVEN IF YOU REGISTERED YOUR CHILD PRIOR TO MAY 25,
WE NEED YOU TO RE-REGISTER ALL CAMPERS.

All applications have been deleted from our system so that the new schedule and documentation will be accurate. Thank you for taking a moment to re-register your camper for camp this summer. We so appreciate your cooperation and patience with us as we navigate this tricky time!


---

May 22nd Summer Update

Registration is temporarily closed. The summer schedule is being re-written. Watch this website and your email for updates.


---

May 15th Summer Update

Well, Kansas didn't quite make it through Phase 1, but we have moved on to 1.5 in our Governor's open for reopening Kansas. What that means is this: We will not be able to have camp until at least June 15.

We are discussing how to proceed from here, so look for another update soon. Please pray for wisdom and unity as we make decisions.


---

May 6th Summer Update

In order to best accommodate the plan laid out by the Governor of Kansas, we have had to tweak our 2020 Summer schedule a bit. Please take note of the date/time changes listed on our Calendar before you register your children for KBC this summer.

All of this hinges on the dates of each Phase going along according to plan, about which we would encourage you to pray with us. If you have questions or need to change your child's registration, please reach out to us at office@ksbiblecamp.org.


---

Subscribe to our weekly summer prayer updates!

We invite you to join us in praying for the Lord's work at KBC this summer by being a part of our weekly summer email list.

A list of praise reports and prayer requests, as well as some general information about the camp, goes out on Wednesday afternoons when camp is in session. We are so grateful for the Lord's provision and continue to ask Him to work through our ministry. 
---